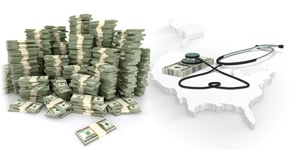 HEALTH REIMBURSEMENT ARRANGEMENTS (HRA'S)
HRA'S are totally an employer-funded arrangement that allows employers to offer high deductible health plans and offset the employees out of pocket expenses by funding an HRA.
Because employers are desperate to find ways to combat the rising cost of health care and employee's want freedom and choice, this type of arrangement is a getting a lot of attention. Employers can offer their employee's the freedom to choose how they spend their health care dollars, while reducing their overall cost.
HOW IT WORKS
Let's say that your company's medical insurance has a $500.00 deductible. By raising the deductible to $2,000.00, the cost of the medical insurance is reduced. To offset the out of pocket expenses to the employees, the company adopts an HRA, and gives each employee $1,000.00 to spend for their out of pocket expenses. These out of pocket expenses not only can be used for co-pays and deductibles, but also eye care, dental or other health related expenses which may not be covered by the medical insurance. This greatly enhances their current coverage and gives them greater flexibility. What makes this arrangement even more attractive, is that the employer can design the plan to allow unused funds to be rolled over into the next plan year. This allows employees to build up a reserve with left over funds. The employer has complete control over the plan design. The plan can just reimburse part of the deductible or expanded to reimburse other eligible expenses.
For further information contact us.